19 Oct 2018
Steven Eglington gives us the BIM low-down for London Build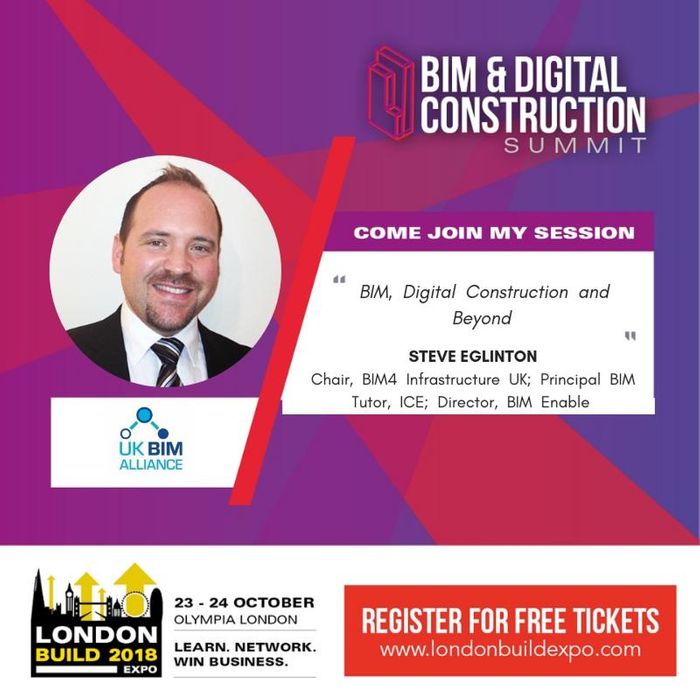 It is with the upmost pleasure we welcome the return of one of the UK's most illustrious BIM aficionados back to London Build to take to the stage in leading the procession of digital construction experts in our BIM and Digital Construction Zone for the entirety of the show.
Steven Eglinton, Director of GeoEnable and Chair of BIM4 Infrastructure UK, has been a supporter of London Build since its inception and each time he returns to us we are blown away by his ability to understand what our industry needs, wants and most importantly expects from a construction show, and with Steven's expert guidance, we are able to deliver on every level, providing future-thinkers, innovators and visionaries in the UK digital built environment.
Drawing on his expertise as a geospatial information management and digital transformation specialist, we asked Steven to work with our speaker selection team to recommend and source subject areas, content and of course people who are going to bring us the very best in BIM for buildings and infrastructure.
One of the most common questions we encounter is what skills do we need to be BIM ready, therefore, together with Steven, we have created a content programme which details exactly what every BIM-beginner needs, right through to those who are implementing advanced technological systems which will change the way we deliver a built asset forever.
We caught up with Steven ahead of the show to ask for his thoughts on this year's BIM and Digital Construction Zone speaker line-up, who we absolutely must see, who will excite us the most and what industry-changing talks can we expect over the two days of London Build.
'
Q. What's different about this year's London Build that people won't have seen from us before?
For me, I think not only hearing about thought leadership and about great real world examples develops our understanding, but conversation, networking and engagement.' So I am happy to say that on both days of the BIM and Digital Construction zone stream we have three panel sessions, to really get the conversation going and ensure we are all on the same page. Getting dialogue going and keeping it going is key ' we also have many networking events including the BIM Open Mic night, PropTech Show and Oktoberfest, to name just a few.
'
Q. In which three talks over the two days will you be taking a front row seat?
The panel discussion 'Panel Discussion: The Digital Construction Revolution: When Will BIM become BAU?' on day one and the session 'Panel Discussion: The Legal and Contractual Barriers of BIM' on day two.
Also, as most of my career has been in GIS, mapping and Geospatial solutions I will certainly be watching: 'Benefits of Integrated BIM and Geospatial for Infrastructure Projects', with Sileshi Tesema, Senior CAD Tech/BIM Coordinator - Kier Group on Day 1.
'
Q. Standards are essential in a successful BIM delivery, who is best suited on the programme to explain what we need to know and what to expect for future compliance?
I would say there are many people on the agenda who understand the standards well, myself included as I teach on behalf of ICE and BSI, the person who will be able to share the timelines and give more details on the emergent standard ISO 19625 will be: the focused panel on Day 2: Panel Discussion: 'Standardised Information to Serve a Modern Digital Workflow', as well as seeing Rob Hine, Head of Trade and Partnerships - BSI Group, who is speaking on day one, that I am sure will refer to the new standard coming.
'
Q. BIM is all about efficiencies, over time, cost, resource etc. what can we expect to see in the BIM Zone on end-to-end BIM and the whole life cost of the project.
I am very pleased to see that Facilities and Asset Management are well covered in the agenda. My own background being very heavily involved in [physical] Asset Management myself. To get a first-hand experience of the whole-life benefits of BIM and Digital Construction, I recommend attending these sessions: Day 1: Panel Discussion: 'Understanding of the Benefits of Information Management to Asset Management' and Day 2:' 'Taking Advantage of BIM: Understanding Building Information Modelling and capturing this Information for Facility and Asset Management', with Patrick King, Associate Director/Head of BIM Technologies - ECD Architects.
'
Q. Who is going to open our minds and introduce us to a fresh perspective on building with BIM?
I know that the panel discussion 'Panel Discussion: Tech Trends of 2018 in the Design process and Built Environment'; 'Gone With the Wind - How Wind Can Reduce Property Value' and 'Indoor Air Quality is Worse than that Found Outside' all on Day 2 will get us to hear about new solutions and this will inspire us all to think about the real potential Digital Construction, Digital Engineering, BIM and linked concepts like Internet of Things (IoT) can bring us. Not only in design and build, but integration, operation and asset management.
Only but a snapshot of what is being delivered in this zone over the two days, however, if you attend but a handful of those recommended by Steven, you'll gain essential BIM knowledge and invaluable insights into what we can expect in the future of digital construction.
BIM in itself isn't the answer, it's how we as an industry make best use of what BIM can offer us and make it work to our advantage for all who interact and use UK infrastructure and our built assets.
All speaker seminars and networking sessions have been crafted to give you' maximum BIM education and guidance on how to make BIM work for you and your organisation.
---
London Build is the leading building and construction show for London. Gain access to 8 dedicated conferences, 300+ exhibitors across 9 show zones, the construction industry's very own Oktoberfest, entertainment and much more. Promote your brand, open new business opportunities, win contracts and gain access to the latest market intelligence in London and the wider region.