01 Oct 2019
Studio Bark's first flat-pack U-build system used for a home extension in Essex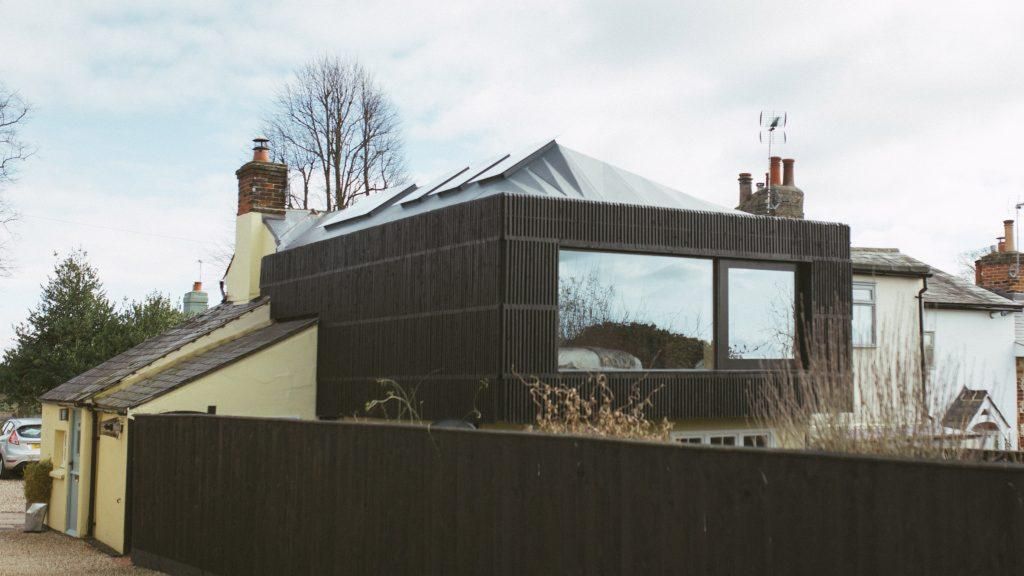 Slatted screens of stained black wood surround the first-floor'extension'of an 1830s Georgian cottage in'Essex, designed by'Studio Bark'but built largely by the clients themselves.
The Mill Lane project, which both extended and remodelled the existing building, is the first extension to be built using'Studio Bark's flatpack U-Build system.
Studio Bark developed U-build to make construction "truly affordable and truly'self-built".
"We wanted to prove that the system is adaptable enough to be used for extensions and bespoke projects," said the studio.
The design was passed through planning, then local building renovation specialist Francis Builders carried out demolition work and prepped for the build.
"Whilst the enabling works were being carried out, the client took delivery of a flat-packed U-Build kit and used their garage as a workshop to build and then store all of the U-Build boxes and other parts," explained Studio Bark.
Where the new extension meets the existing home, the rough texture of the building has been left exposed to contrast the fresh woodwork.
Studio Bark were commissioned for four weeks on site to ensure the building was watertight, but beyond this the clients carried out the internal finish and external cladding by themselves.
The cladding is made of slatted panels of black-stained wood and wraps around the entire extension.
Mill Lane's extension is windowless apart from the large window facing the garden and a small window which sits behind the wooden panels, creating a lantern-like effect at night.
The first-floor extension adds a new bedroom, bathroom and yoga space, sitting above a renovated ground floor housing an open plan kitchen and dining room.
With an asymmetric pitched roof, the first floor extension slightly overhangs the house below, and directly abuts the wall of the existing home's upper level at the front of the site.
The'timber'structure of the building has been left completely exposed internally, creating light, warm feeling spaces lit by skylights.
Built-in storage under thee low wooden bench that runs around the bedroom provides seating areas alongside large windows overlooking the garden.
Copper'specialist Jamie Johnstone assisted with the bathroom fittings of exposed pipework, and structural engineers Structural Workshop also assisted with the design.
As well as self-build, London-based Studio Bark, which was founded by Wilf Meynell in 2014, also has an interest in sustainable and "off-grid" architecture.
The practice recently completed a'solar and bio-diesel powered home in Suffolk, as well as a'fully biodegradable cork building.
Photography is by Lenny Codd.
'
Source: Dezeen
---
London Build is the leading building & construction show for London and the UK. Gain access to 350+ exhibitors, 500+ speakers and connect with 25,000+ registered visitors. If you are interested in speaking, exhibiting or becoming an official event partner for the 2019 show, simply submit your interest and a member of the team will be in touch.'
'