03 Oct 2019
SUPRBLK turns biscuit baking room into light-filled London apartment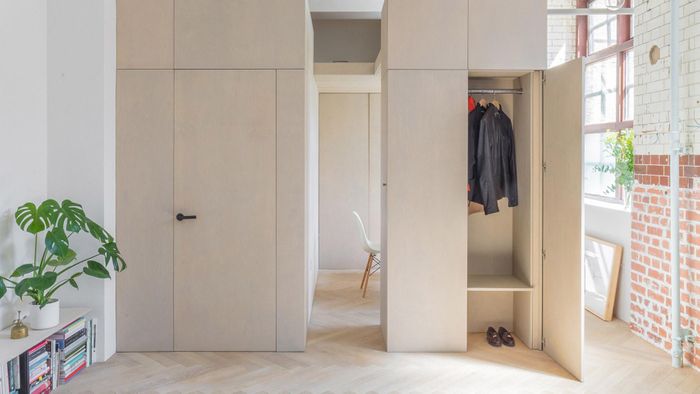 Architecture studio SUPRBLK has erected'birch plywood'pods in place of walls in this'London apartment, which lies within a former biscuit factory.
Set within the baking room of a former biscuit factory in east London, the apartment'replaces dark and dated living quarters that were created in the building back in the 1980s.
Bethnal Green-based studio'SUPRBLK'reconfigured the home to increase its floor area from 60 to 77 square metres. It also worked to revive "existing scars", like the worn, glazed-brick columns that run along the apartment's front elevation.
"We sought to challenge the standard formula of London living by emphasising space, natural light penetration, volume and flexibility," the studio said.
Instead of conventional partition walls, rooms are divided by a series of "inhabitable pods" that sit just beneath the ceiling, emphasising the apartment's lofty interior.
"Instead of thinking in plan, the project is an exercise in rethinking the word 'wall' in section by utilising the verticality of the 3.5 metre-high ceilings in an inventive and playful way," explained the studio.
"By building in an abundance of storage ' something which is so often lacking in small residential spaces ' the minimal and light, airy feeling within the space is easily achieved."
Each of the pods is crafted from birch plywood and treated with a light-grey translucent stain, an attempt by the studio to "transform the character of an otherwise humble material into something distinct and unique."
Living areas are delineated by being placed at varying heights in the pods. For example, the'guest bedroom is tucked away above the apartment's bathroom, allowing visitors to have a sense of privacy when they come to stay.
The master bedroom is situated down at ground level.
A platform above the walk-in-wardrobe provides storage space for the inhabitant's larger belongings, while a bright-yellow staircase with in-built storage boxes leads up to a small study area, which sits up on a mezzanine level.
"The utilisation of height within these pods creates cosy zones that trigger memories of play, like being in a treehouse. It enables one to be both within and removed from the surrounding," said the studio.
"The elevated nature of the office also enables creative mess to exist without being seen, which further helps with the minimal aesthetic."
Cost-effective decor details, such as track lights made of Unistrut ' perforated metal rods used in construction ' and oversized rainwater gutters have also been dotted throughout to create an overall minimal and functional aesthetic.
Much like SUPRBLK, designer John Pawson'used timber volumes to arrange the interiors of flat on London's Barbican estate. The volumes accommodated a pared-back kitchen and office area so that the inhabitants can opt to work from home.
'
Source: Dezeen'
---
London Build is the leading building & construction show for London and the UK. Gain access to 350+ exhibitors, 500+ speakers and connect with 25,000+ registered visitors. If you are interested in speaking, exhibiting or becoming an official event partner for the 2019 show, simply submit your interest and a member of the team will be in touch.'