11 Jul 2022
TfL Announces Barking Riverside Station Opening Date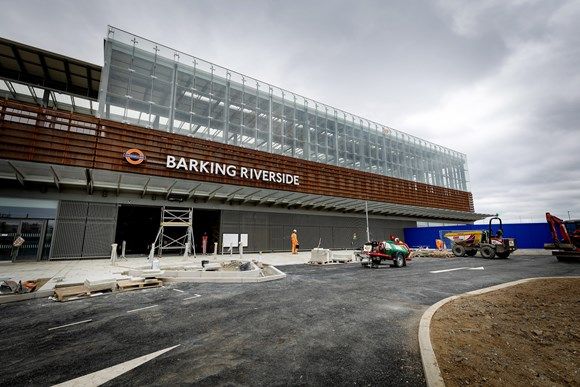 TfL has announced that the new Barking Riverside Station will open to customers on 18 July, providing quicker and more sustainable journey options
Barking Riverside Station'is'fully step-free, bringing the total across the London Overground network to more than 60 stations.
The Gospel Oak route will help to dramatically reduce journey times to Barking to just seven minutes, rather than the current 25-minute bus journey.
The station enables easy interchange with local bus services and has'extensive cycle parking facilities'helping to promote greener and more sustainable journeys by making it easier for people to start or end their journeys by cycle.
Barking Riverside is a key part of 'building a better London'
Seb Dance, deputy mayor for transport commented: 'Hot on the heels of the opening of the Elizabeth Line, this is more excellent news for east London.
'This new station will help to pave the way for up to 10,000 new homes in Barking Riverside, thousands of which will be genuinely affordable and will ensure residents have the high-quality transport links they need. I am particularly pleased that this station is fully step-free and is opening much earlier than planned.
'Despite the lack of long-term funding from Government for TfL, the Mayor is still absolutely focused on building a better London ' and this development is a key part of that.'
'Providing accessible, sustainable travel'
Stuart Harvey, chief capital officer at Transport for London, stated: 'The opening of Barking Riverside station, months earlier than anticipated, is another boost for the capital, following the successful reopening of Bank station and launch of the transformational Elizabeth line.
'This extension will effectively deliver on two key priorities as London recovers from the pandemic of providing accessible, sustainable travel to much needed housing for Londoners. Residents will be able to benefit from a modern and spacious new station, which will be well connected with other local transport links including local buses and River Bus services.'
'Making Barking Riverside an exciting destination for Londoners'
Matthew Carpen, managing director of Barking Riverside Limited, added:''The early launch of this Overground service is due to the brilliant partnership we have had with TfL and the contractor Morgan Sindall Infrastructure VolkerFitzpatrick.
'We worked through Covid-19 and so the opening is the signal to help reconnect residents and visitors of this area to London. Following the successful launch of the new River Bus service, this vital piece of infrastructure will be a major component in the range of transport options for commuters and leisure visitors alike, making Barking Riverside an exciting destination for Londoners, as well as a well-connected home for our community.'
Delivered by Morgan Sindall Infrastructure and VolkerFitzpatrick joint venture on behalf of TfL, the Barking Riverside Station's supply chain partners have supported 39 apprenticeships and businesses, with skills and job creation seen across the whole country.
The Barking Riverside development, delivered by Barking Riverside Limited, a joint venture between L&Q and the Mayor of London, is delivering more than 10,000 new homes alongside community,'commercial and retail spaces.
Source: PBC Today'