02 Oct 2019
The use of keyhole engineering on Thames Water's Kings Scholar Pond project saved money and carbon while keeping London moving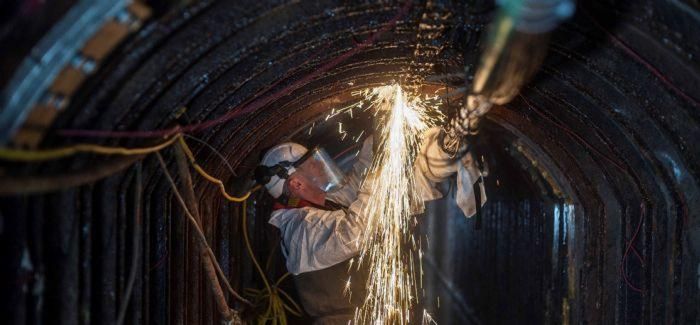 Project constraints often dictate an engineering concept. In some cases, these constraints can be so formidable that the only solution is to invent something completely new.
Thames Water's Kings Scholar Pond (KSP) sewer rehabilitation scheme is one such project. The innovative keyhole engineering design for this '15 million project, in one of London's busiest areas, created minimal disruption to the public and no impact on roads or underground rail.
In addition, designer Stantec's state-of-the-art solution enabled the 1840s brick-built Victorian sewer tunnel to remain in full wastewater operation throughout.
The stakes were high because if the KSP structure failed, its location ' on a busy road junction above Baker Street tube station and at the Baker Street/Marylebone Road intersection ' meant it would inflict severe disruption to London's road and underground rail networks.
However, rather than using a traditional dig solution, Thames Water took a different approach, saving approximately '23 million and over 26,000 tonnes of embodied carbon as well as avoiding the need to disrupt rail or road users.
'We are all immensely proud of this project,' Mark Taylor, head of programme management (waste) for Thames Water, says. 'It was about being sympathetic with the environment, harnessing innovation and keeping London flowing both above and below ground.
'It required huge innovation and new solutions because of the extraordinary constraints and high consequence risks. The design and project execution were excellent and mitigated a significant risk on London's sewerage network and ensured the continued service of the King's Scholars' Pond Sewer for a further 120 years.'
Thames Water utilised its eight2O alliance contract to procure the design and construction of this project. Enhanced stakeholder engagement was key to the successful project delivery, with Stantec's design team and Skanska and Balfour Beatty Construction teams working in close collaboration with Thames Water, London Underground and Transport for London to develop the solution. All stakeholders contributed significantly to the design development to ensure the specific needs and outcomes of all parties were met.
The KSP sewer, buried 2.1m beneath the junction of Baker Street and Marylebone Road, and running above London Underground's Hammersmith and City Line, was found to be showing significant distress during a routine inspection.
Constructed within the crown of the brick London Underground tunnel, the sewer spans 10m between support points. In addition to severe structural cracking identified within the sewer, the 170-year-old structure was found to have settled by over 160mm from the original constructed level, thereby encroaching into the kinematic envelope of the London Underground trains below.
The 2.1m tall by 1.7m wide sewer was originally built by Joseph Bazalgette in 1848, seven years before the first section of the London Underground was opened to the public. The two structures intersect near Baker Street tube station.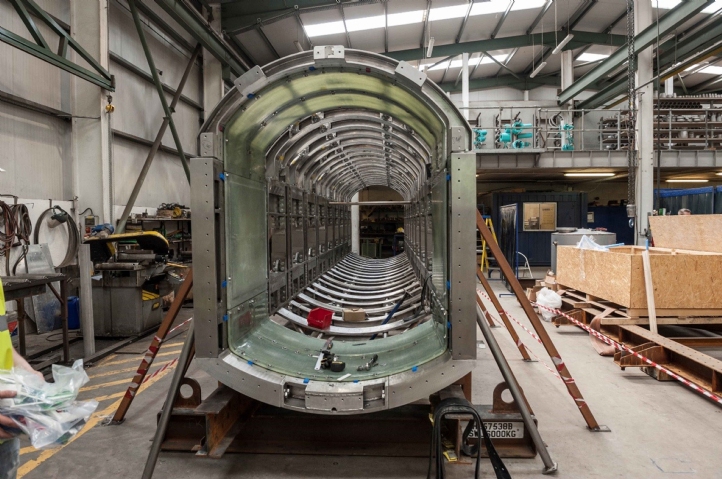 Trial assembly of the duplex steel truss and liner panels
At this location, the sewer is supported by two primary cast-iron beams spanning between pad-stones embedded within the brick walls of the London Underground tunnel. The sewer's degradation at this location was attributed to the settlement of the London Underground tunnel beneath.
Closing the tube line to repair the sewer from below ground would have cost around '1 million per day, which was not an option. Similarly, closing the busy junction between Marylebone Road and Baker Street to repair the sewer from above would have caused major disruption for five or six months.
Stantec's design solution involved a stainless-steel bridge and integral liner. These were constructed offsite, dismantled and rebuilt inside the sewer, after being lowered underground one piece at a time through a narrow manhole.
'Our team's ingenious solution involved strengthening the sewer from the inside,' Dr Neal Edwards, KSP lead designer and technical director at Stantec, says.
'We designed and constructed a 'thin', lightweight bridge structure composed of modular super duplex stainless steel trusses which could be assembled inside the sewer, with a tailor-made fibre reinforced plastic liner constructed within the steel structure to provide a conveyance medium for the effluent flow.
'All project components were specifically designed to be as lightweight as possible, modular and less than 2 metres in length to allow access through a single 600mm by 750mm manhole. The design and construction of this massive jigsaw puzzle demonstrates exceptional project execution, with every component fitting together with millimetre precision.'
Digital technology was invaluable in the provision of design data relating to the final fit of the proposed solution. It allowed the design team to accurately assess interfacing structures plus space limitations to minimise 'fit' issues and construction time inside the sewer. The digital model was shared with critical suppliers, so everyone worked within the same digital environment.
Additionally, virtual reality and augmented reality visualisation techniques were adopted.
'This approach familiarised Skanska and Balfour Beatty Construction teams with the environment and the work prior to construction to minimise risk and improve health and safety considerations during construction,' Skanska project manager Asad Hanfi says.
Dr Edwards says: 'This degree of precision engineering resulted in the solution being absolutely aligned with the surrounding environment. In addition, the choice of materials used were heavily influenced by the environment and requirement for a 120-year design life. The successful execution of this modular approach also means it is repeatable for other major sewers crossing railways where site constraints are extremely challenging.'
Thames Water's Taylor adds: 'The KSP project delivered by the eight2O team demonstrated exceptional project execution, client care and stakeholder engagement as well as thinking outside the box when faced with extraordinary constraints.
'At '1.5 million per linear metre, the rehabilitation of an old Victorian underground pipe bridge could be considered expensive. However, this project not only delivered impressive savings of '23 million on our AMP6 business plan solution but it involved no rail or road closures.
'It also saved over 26 tonnes of embodied carbon ' equivalent to 100,000m3 of concrete not poured ' and has delivered an asset capable of maintaining wastewater operations for a further 120 years.'
'
Source: WWT Online'
---
London Build is the leading building & construction show for London and the UK. Gain access to 350+ exhibitors, 500+ speakers and connect with 25,000+ registered visitors. If you are interested in speaking, exhibiting or becoming an official event partner for the 2019 show, simply submit your interest and a member of the team will be in touch.'