30 Jul 2018
TINY GEORGIAN 'GAP HOUSE' IN PUTNEY DOUBLES ITS VALUE WITH INNOVATIVE DESIGN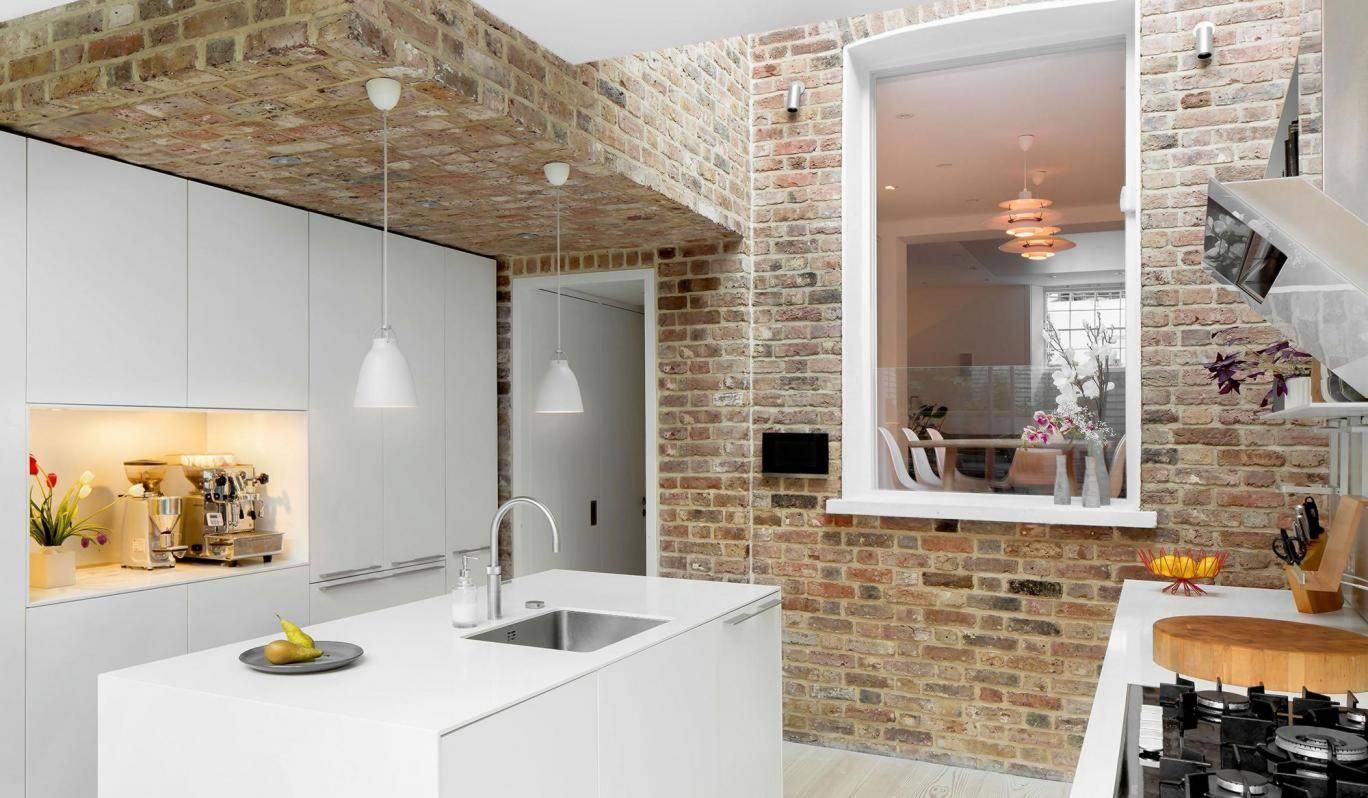 They may be beautiful to start with but putting old and new together well in a historic home can make something truly remarkable. That's the case with the innovative'Putney'home of lawyer Alice Spani-Molella, 39 and her partner Peter, 33, who works in finance.'
Their now-hybrid home began as a tiny, vertical, Georgian Grade II-listed house the size of a two-bedroom flat. By using the driveway they added 50 per cent more room.'
The result is a modern home with a very unusual configuration.
But when the couple first bought the house there was no planning permission to extend, so they were taking a big risk that it might be refused.
In the Eighties, their future home had been carved off the back of a big, grand house. It had just one room on each of four floors, reached by a narrow, twisting staircase. This sweet, "cottagey" home was the former servants' quarters.
The division left a still-grand house at the front, plus the little house, accessed down a wide driveway. It also had a small backyard sliced off the big house's garden.
When the couple went flat-hunting in 2011, they didn't have much money. Alice, who's French, had met Peter in 2010 after moving to'London.
She bought a small flat in Bow, which she let, and shared a flat with a friend in Fulham. Once she and Peter became a couple, Alice sold her flat and they began searching.
Old and new:'the original stairs rise through a swish sitting room (Juliet Murphy)
Alice liked Putney so they looked at flats near the river, but prices were beyond their means. They were on the point of giving up when an agent told Alice about an unusual, cute little house.
Freehold and only just outside their budget, Alice says she fell in love the minute she saw it and made an offer the next day. They bought the place in March 2012.
THE 'GAP' HOUSE EXPERT
While they hoped they might one day be able to enlarge their Georgian dolls house, they spent a year just getting used to it. But Alice has 'lots of stuff', and the house, with its very narrow stairs, was "getting a bit chaotic".
What it cost
?880sq ft house in 2012:'550,000
Total money spent:'500,000
1,320sq ft house today:'1.29million
Like most of us, they weren't sure how to find an architect, so they asked builders working on local projects who their architect was, and in this way found one, who suggested an in-keeping addition to one side.
However, Alice and Peter thought they could do better and decided to save a bit more money.
Another year passed, during which they began to wonder if they could excavate the drive and create a very bold extension, with a basement sunk right down into the ground, which would lead to their little house.
Bold design:'the bright'kitchen is beneath'the new hall and'drive (Juliet Murphy)
Alice surfed for architects whose work met their imagination, and eventually found one with a history of innovative "gap" houses. Tom Shelswell, from William Tozer, was "super-enthusiastic" about the challenge and the possibilities.
Shelswell suggested something boldly contemporary to contrast with their house, using simple materials and a limited palette.
He also said his company didn't use spotlights but liked to get as much natural light in as possible, which struck a chord. And he suggested an industrial kitchen to run the length of the basement part of the extension.'
The new two-storey part would be light and clean-lined throughout.
Plentiful skylights in the upper level, plus glass doors to the yard and borrowed light from a glass floor in the hall, made sure of that.
Wide openings connecting the new part to the old create a sense of more light, as well as good flow.
The historic part got a steel skeleton, new wiring and plumbing and double-glazed windows where allowed.
The planners were consulted on all heritage aspects. "We did everything by the book," Alice says.
DIGGING FOR VICTORY
Shelswell made sketches for the innovative and daring addition and when it finally went to the planners, after all the usual searches, surveys and party wall agreements had been sorted out, his designs were so detailed that they went through in three months.
The digging out was an immense job, but even so the entire build was a very fast 10 months, completing in September 2016.
Instead of a cottage there's now a dramatic modern entrance hall with smart bedroom and bathroom leading seamlessly into a sitting room, with the stairs up to the bedrooms in the old part of the house.'
Down time:'the old basement'is now a spacious kitchen-diner (Juliet Murphy)
The stairs lead down'to the conjoined old-and-new kitchen diner.
This lower floor is a huge success, for instead of being crammed in a tiny room, there's a generous, long modern kitchen with steel worktops, and next to it, a cosy dining room with log burner.
"We loved the house before," Alice says, "but it was small, and we spent a lot of time eating out. Now we love staying at home."
Source: Homes & Property'
---
London Build is the leading building and construction show for London. Gain access to 8 dedicated conferences, 300+ exhibitors across 9 show zones, the construction industry's very own Oktoberfest, entertainment and much more. Promote your brand, open new business opportunities, win contracts and gain access to the latest market intelligence in London and the wider region.