22 Oct 2019
Tolent delievers first modular housing project in Newton Aycliffe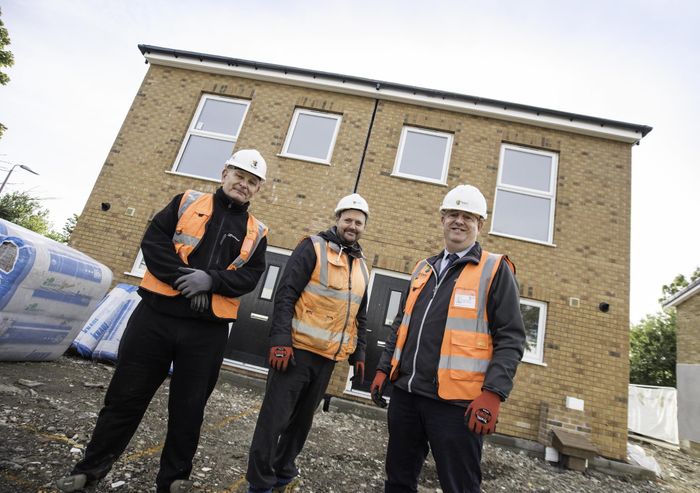 Gateshead-based contractor Tolent has delivered their first modular housing project in Newton Aycliffe.
In the space of a day, two modular homes were delivered and assembled on site before a group of local residents, who had gathered to watch the new project take shape.
Working with leading offsite manufacturer ilke Homes, six houses were delivered to the site in modules ' comprising of a ground floor, first floor, and roof sections ' and installed into position to create a pair of two-bedroom homes.
Modular buildings are a type of prefabricated structure made up of repeated sections called 'modules', which are constructed offsite in factories and delivered to the building site for assembly by the contractor.
As an innovative product at the forefront of the housebuilding sector, modular housing has been proposed as a potential solution to the housing crisis, because factory-built homes require less labour and can be built much more quickly than traditional structures.
The ilke homes are precision-engineered in their facility in Knaresborough, North Yorkshire, and the sustainable buildings have been proven to cost as little as '1 a day to run, offering future residents significant savings on their utility bills.
Chris Price, regional director for Tolent, said: 'As our first fully modular housing project, it's been a fascinating process to be a part of and fantastic to now see the homes in place.
'The speed and quality of this process is of huge benefit to us and our client Livin, but possibly the biggest benefit is to the local community.
'Using modular housing can halve the traditional build programme with residents less affected by noise, pollution and disruption as there are fewer lorry deliveries to the site.'
Dave Sheridan, executive chairman at ilke Homes, commented: 'It's great to begin what we hope will be a long-lasting partnership with Tolent, as they wholeheartedly embrace Modern Methods of Construction.
'The homes at Newton Aycliffe are shining examples of how offsite construction and a forward-thinking approach can create homes that benefit families and the planet.
'By manufacturing each home in our factory, we can ensure better insulation and superior sound proofing.
'Our sustainable approach empowers consumers by enabling them to make considerable savings on energy bills, while reducing their homes' impact on the environment.'
Tolent's portfolio of previous projects including Sunderland's award-winning Beacon of Light, the UK headquarters of Sage in Gosforth, and the 1846 Roundhouse venue in Camden.
The business also recently announced a '190 million Garden Village development in Seaham.
Tolent is currently on site in Durham on the '84.5 million Milburngate development, and is also working on Hadrian's Tower, which will be the tallest tower in Newcastle once completed.
'
Source: Net Times Magazine
---
London Build is the leading building & construction show for London and the UK. Gain access to 350+ exhibitors, 500+ speakers and connect with 25,000+ registered visitors. If you are interested in speaking, exhibiting or becoming an official event partner for the 2019 show, simply submit your interest and a member of the team will be in touch.'