04 Apr 2022
Tunneling Well Underway For London Power Tunnels (LPT) Second Phase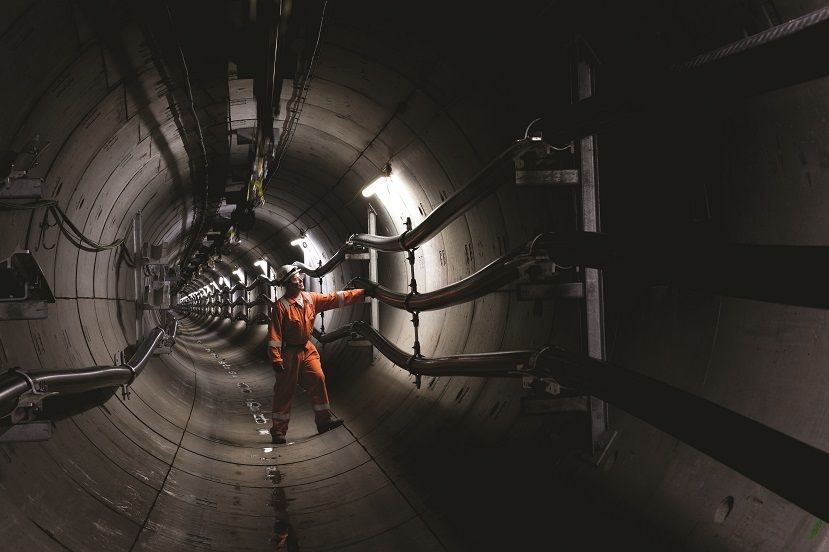 After successfully rewiring North London, the'London Power Tunnels (LPT)'project team is now boring tunnels in South London. Sarah Woolham-Jaffier, project supervisor tells us all about the '1bn project here.
'
London Power Tunnels (LPT) is a '1billion project'to rewire the capital through deep underground tunnels. The project is now in its second phase of development having successfully rewired North London, the project team are now'boring tunnels'between Wimbledon and Crayford in South London.'The tunnels will span 32.5km in total and reach depths of up to 60m across London.
The budget for the project is '1billion, however, the team are currently on time and budget. Work to build the tunnels and shafts take place under permitted development rights, which means we don't need planning permission for the whole project. However, there are points on the tunnel route where we need to build headhouses to cover the shafts. These headhouses will allow us to access the tunnels once they are built. Where these proposed head houses are not on our operational land, we will need to seek planning permission from the respective local authorities across our sites.
Furthermore, for the tunnel route, we are predominantly seeking rights in subsoil to land at depth beneath properties along the route, as well as certain land rights on the surface at the headhouse sites. This will require attaining Compulsory Purchase Orders for land concerning our 3 circuits.
London Power Tunnels (LPT) 2 comprises of three 'Circuits' between existing National Grid substation sites:
Circuit 1 is from Wimbledon to New Cross
Circuit 2 is from New Cross to Hurst
Circuit 3 is from Hurst to Crayford
We have submitted 2 Compulsory Purchase Orders (CPOs) for land and rights along the tunnel routes of circuit 1 and 2 in addition to the rights which we have already reached via voluntary agreements. Circuit 3 involves the boring of a cable tunnel running from a head house at the Hurst substation to a sealing end compound at Crayford. Circuit 3 is the shortest of the three LPT 2 circuits and will require an additional CPO which we will submit in due course.
We launched'LPT 2'in Spring 2020 with works to be done across 8 sites: Crayford, Hurst, Eltham, Kidbrooke, New Cross, Bengeworth Road, Kings Avenue and Wimbledon. So far tunnelling is well underway between Crayford, Hurst and Eltham, and between New Cross and Kings Avenue. Our tunnel construction will be completed by the end of 2023. At our Bengeworth Road site we will begin the construction of our headhouse in the Summer, with works to commence at Wimbledon and Kidbrooke later in the year.
The project is currently due to be fully operational in 2027.
How will underground electric cables benefit London?
Housing new electric cables underground will have a number of benefits in both the short and long term. A particular motivation for housing the cables underground is lessening the disruption caused when constructing and maintaining electricity supplies. As the majority of the construction will take place deep underground, our disruption to the surrounding area
It has been considerably less than most infrastructure projects of this scale. Furthermore, future repairs and maintenance work can be carried out without disrupting traffic, residents and businesses and overhead cables which can be eyesores to their local landscape can be removed.
The project also aims to give London the infrastructure it will need in years to come as the capital continues to expand. Already, the tunnels have the capability of transmitting enough electricity to power the equivalent of half a million kettles simultaneously. The colossal capacity of the tunnels means additional cables can be installed in the tunnels to meet future demands.
On LPT our strategy towards hitting net-zero is intrinsically linked with our social outreach programmes. National Grid research shows that the UK energy sector needs to fill 400,000 jobs to reach net zero by 2050. This skills shortage is being compounded by a lack of social mobility across the UK and this problem is being felt particularly in STEM orientated industries. This provides a great opportunity for the energy industry to tap into the UK's diverse pool of talents, cultures, and ideas to fill these gaps.
The project places a great deal of emphasis on upskilling to meet net-zero. Last year we recruited for 64 apprenticeship roles and, by 2025, have committed to engage with more than 100,000 diverse pupils in South London through a STEM skills and careers outreach programme. This can help create a pipeline of talent for the hundreds of thousands of jobs needed to be filled across the energy industry to hit net-zero. Partnering with Connectr, the programme involves National Grid employees volunteering their time to encourage young people to seriously consider STEM as a career choice. From interactive workshops, and digital mentoring sessions, to virtual work experiences, we're rolling out a range of initiatives and have already worked with tens of thousands of young people since the programme's launch in October 2020. The programme focuses on social mobility and societal fairness by targeting schools in the most deprived areas along the tunnel route.
Reducing environmental impact across sites
Furthermore, we are taking measures across our sites to reduce our environmental impact and ensure we are looking after local our surroundings. At our Bengeworth Road site, the new headhouse building will incorporate solar PV panels which will contribute to the building's operational usage. Bird and bat boxes will also be installed to encourage local wildlife. It's important to us to ensure our project is considerate of our surrounding environment and its communities and so we are constantly looking for ways in which LPT can benefit those around us.
Source: PBC Today'