12 Oct 2018
Walking on the sunshine: why now is a good time to invest in solar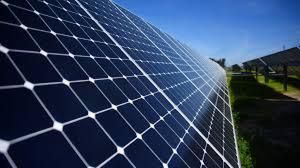 Solar power isn't exactly a new discovery; in fact, it was back in 1839 when Alexandre Edmond Becquerel discovered the photovoltaic effect, converting sunshine into energy. A lot has changed in the last 200 years, not least the need and demand for sustainable energy.
The Global Trends in Renewable Energy Investment report, via the UN Environment Programme, reported that the world installed a record 98 gigawatts of new solar capacity in 2017. That's a considerable amount more than all other energy sources combined and a sign that we're starting to utilise solar power more than ever.
The signs are clear when it comes to solar power forming a vital part of our future. China invested in 53 of the 98 gigawatts of solar capacity last year, calculated at $86.5 billion. If that isn't a statement of intent, it's hard to see what would be. In fact, the general trend for investment in renewable energy has shown in excess of $200 billion spent each year worldwide, with China, Mexico and Australia amongst the largest investors.
It's not just the rise of sustainable power having an effect; the demise of other types of energy is a major contributor. The writing is on the wall for fossil fuels and supplies will only deplete further over the coming decades. Considering the well-known detrimental effects of fossil fuels on our environment, it becomes easy to see why the world is investing in solar.
How is this going to affect the consumer? After all, it's those of us powering a home or a business that face the biggest personal risk when investing in solar. In 2018, green energy is no longer exclusively for those seeking an alternative lifestyle and to 'save the planet'. When it comes down to brass tax, there are huge potential savings to be made by using solar power. According to the Energy Saving Trust in the UK, a family home in London could save up to '220 a year on their energy bills by installing solar roof tiles, for example. As the use of solar energy continues to rise, there's no time like the present to become a part of this growing trend.
Looking to the future, the International Energy Agency (IEA) predict that in five years' time, the global capacity for solar energy will be greater than the current total for India and Japan combined. Executive director of the IEA, Dr Faith Birol, said: 'what we are witnessing is the birth of a new era in solar photovoltaics (PV). We expect that solar PV capacity growth will be higher than any other renewable technology up to 2022.'
There can be little doubt that solar is not just here to stay but will go from strength to strength on a very global scale in the coming years. You might say that the future is very bright for solar energy, if there was ever a time to invest it's surely now.
About Solecco Solar'Tiles
The growing demand for construction solutions that fit within environmental concerns means an increasing need for innovative products. Solecco Solar Tiles are the ideal solution when looking to provide your project with an ecologically friendly element, whilst adding value and providing high-class performance. Visit their stand B31 at London Build Expo 2018.'
'
---
London Build is the leading building and construction show for London. Gain access to 8 dedicated conferences, 300+ exhibitors across 9 show zones, the construction industry's very own Oktoberfest, entertainment and much more. Promote your brand, open new business opportunities, win contracts and gain access to the latest market intelligence in London and the wider region.