03 Oct 2018
Exclusive interview with Crawford Partnership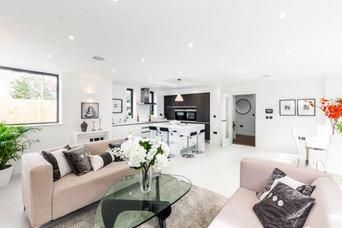 We recently spoke to Crawford Partnership to hear more about their entry into the Interior Design of the Year Award and the Cecile Park project.
Can you tell us a little more about your practice and the Cecile Park project?
Crawford Partnership is an established London-based 'boutique' architecture and interior design practice with considerable expertise in residential design that has been honed over several years. Our ethos and approach towards contemporary housing design emanate from a shared passion for art, sculpture and design, reflected within the interior spaces that we create.'
Cecile Park is a typical back-land site, formerly occupied by disused lockup garages, and surrounded by the tree-lined gardens of Victorian homes. The unloved site has now been transformed into four new detached contemporary homes, with a strong external identity finished in dark brickwork and black-stained timber cladding. The interior design of the new homes creates a bold contrast to the black exterior, providing bright, open-plan spaces using modern materials and finishes from a mainly white palette to achieve a comfortable and tranquil oasis close to the vibrant centre of Crouch End.
The practice has a contemporary approach to interior design primarily expressed in the creation of spaces and volumes that benefit from maximum daylight and sunlight and incorporate subtle use of ambient artificial lighting. We have an appreciation of natural materials that complement and harmonise and with sculptural design elements introduced, such as our bespoke staircase installations that raise expectations beyond the ordinary, and with the selection of all materials, fixtures and fittings carefully curated to provide a consistent design language.'
Windows are carefully positioned to reduce overlooking of neighbours' gardens, and with floor to ceiling glazing the standard, all rooms maximise their ability to receive natural light and provide controlled views out across the leafy green setting of the site. Built over three floors with185 square metres of floor area, the houses meet Level 4 of the Code for Sustainable Homes, using smart-home technology throughout the house to monitor and control the interiors.
Natural oak flooring is used within the entrance, continuing as the treads of the cantilevered natural steel staircase that connects the floors. The large skylight above washes sunlight into the interior, continually changing filigree silhouettes of the steel rods and open-treads, dancing across the white staircase walls. The ground level open-plan kitchen and living space and the basement level family living space and bedroom areas are finished with large format white porcelain tiles, chosen to provide a fresh, monolithic and unified appearance to these areas, allowing natural daylight to reflect off the surfaces, particularly benefitting the basement spaces. A white kitchen with Corian worktop surface and contrasting white and dark brown laminated door finishes enhance the lightness of touch within the open plan kitchen and dining area.'
Why do you deserve to win?
Working with clients to achieve the highest standards of architecture and interior design and balancing this with their budgetary aspirations is always a unique experience. The practice is therefore delighted to be recognised as a finalist for such a prestigious award. Winning it would be a significant boost as we look to expand and explore new, larger and more complex projects while applying the lessons learned in working on these carefully crafted smaller schemes.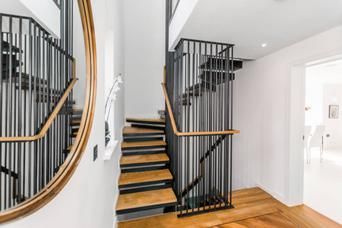 For further information, please contact:
Lisa Carnwell
Marketing Content Manager
Costello Palmer Communications'
07511 037650
lisa.carnwell@costellopalmer.com
---
London Build is the leading building and construction show for London. Gain access to 8 dedicated conferences, 300+ exhibitors across 9 show zones, the construction industry's very own Oktoberfest, entertainment and much more. Promote your brand, open new business opportunities, win contracts and gain access to the latest market intelligence in London and the wider region.