03 Oct 2018
Exclusive interview with dn-a architects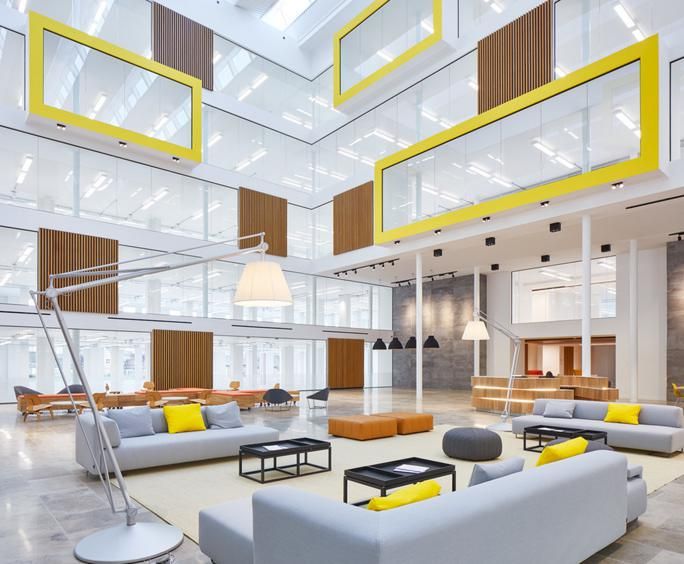 We recently spoke to dn-a architects about their Charter Building project and why they think they should win the Regeneration Project of the Year Award.
How did you approach the design of this regeneration project?
'
The original building, once the UK headquarters for Coca-Cola, was completely stripped back to its structural frame. The floorplates were extended, and a new community atrium and penthouse floor, with access to a dramatic roof terrace, were created, expanding the net lettable area by approximately 8,000sqm. Creating visual interest and spaces for community interaction was at the heart of the design approach. An internal 'Street' that cuts a swathe through the North/South axis of the building acts as an animated breakout area and social hub, encouraging serendipitous encounters, where occupiers can meet clients, brainstorm with colleagues over a coffee, or simply refocus outside of their office environment. The use of natural materials, the intriguing design elements?'?including a five-storey atrium with coloured timber boxes 'popping out' at different levels?'?through to the warm, intimate areas make this space truly an innovative and exciting place to work in.
'
What makes this project worthy of winning the award?
So why does The Charter Building deserve to win? Not only for the end result, it truly is a fantastic space to experience, but also for the incredibly collaborative nature of the project. We worked very closely with our clients Landid Property and Brockton Capital to ensure The Charter Building became the inspired workspace that we know today. As a studio, we have undertaken many regeneration projects, including the RIBA Award-winning Thames Tower in Reading, as we really enjoy the challenge of unlocking the potential of a space that is crying out for rejuvenation. At dn-a, we relish the opportunity of transforming a building into a place within which people want to be, work and enjoy life. The Charter Building is no different. The interiors are crafted with a warm, convivial touch that has transformed the previous office building into a space tenants, and users want to engage with. Renovated into a piece of interactive art, with co-working areas, bespoke furniture and carefully placed biophilic elements, such as olive trees in 'The Street', the Charter Building truly stands out.
'
It offers something contemporary, something exciting for tenants looking to locate to a prime location. But more than that it offers an intricately, beautifully designed space, a space for people to connect and collaborate within, a space to host events and enjoy a perfect work-life balance. Attending the London Construction Awards is of prime importance to us as The Charter Building deserves to receive recognition for what it has achieved; a truly inventive and imaginative regeneration project that has dramatically changed what was before into something genuinely dynamic, distinctive and stimulating.
'
For further information, please contact:
Lisa Carnwell
Marketing Content Manager
Costello Palmer Communications'
07511 037650
lisa.carnwell@costellopalmer.com
---
London Build is the leading building and construction show for London. Gain access to 8 dedicated conferences, 300+ exhibitors across 9 show zones, the construction industry's very own Oktoberfest, entertainment and much more. Promote your brand, open new business opportunities, win contracts and gain access to the latest market intelligence in London and the wider region.