04 Oct 2018
Exclusive interview with Henley Homes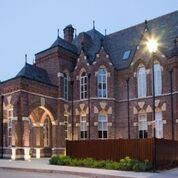 We recently spoke to Henley Homes about their Barnes Village project and why they think they should win the Regeneration Project of the Year Award.
Are regeneration projects one of your strengths?
Henley Homes have a strong tradition of working in regeneration projects. 'For over 20 years, the company has taken on urban brownfield sites requiring complex remediation to create contemporary new build schemes, and also challenging restoration and conversion of landmark and listed buildings nationwide. 'It is renowned for creating successful schemes on sites that others did not even see as workable.
'
The Barnes Village project is an excellent example of Henley's core strengths and why it is worthy of entry into the LCAs. 'The site is a challenging one, consisting of a Grade II listed Victorian former hospital located on 16.5 acres near Cheadle, Stockport SK8. The scheme created 39 apartments within and attached to the Hospital, and 117 new build homes in the grounds.
'
How did you approach this regeneration project?
'
The condition when Henley bought it was one of extreme decay: open to the elements from roof to basement in parts; extensively vandalised and stripped of period features; once home to squatters, and still home to wildlife, asbestos, invasive plants and rumours of ghosts, with much of the estate requiring soil remediation. 'The site is bound on all sides by major roads that have impacted on the connection of utilities and necessitated careful traffic studies and noise mitigation.
'
Careful design development
The original planning permission was also not optimal, relying as it did on numbers of large new build apartment blocks forming the enabling development. 'This contradicted Henley's demographic research which indicated that family homes and apartments with direct street access would be more relevant, as well as providing a lower density and more attractive setting to the listed building. 'Henley undertook a new planning exercise and successfully applied to have the permission amended. '
'
This design development led to a low-density approach, with curving streets of new build family homes and private gardens. 'Sharply pitched roofs and large windows echo the drama of the old, but with the elegance and convenience of the new. 'The new homes were built using lightweight steel framing, an innovative modular system involving computer design and off-site fabrication. Panels are delivered to site for swift assembly in all weathers, creating a light, yet strong substructure with zero waste to landfill. 'This provides an interesting counterpoint to the heritage consultants and contractors involved in the listed building.
'
Sales success
Barnes Village is now a new quarter for Stockport, with convenient transport connections and pre-existing links to surrounding communities. 'It's now 65% sold, and over 50% occupied, as final phases come onto the market. New residents are relocating either from Manchester or from neighbouring towns and villages, seeking homes that are easily commutable to work, leisure and education opportunities. 'Prices range from '145,000 for a one-bedroom apartment to '420,000 for a four-bedroom house, an average of just '250/sq.ft.'
'
Henley is fiercely proud of Barnes Village: for its unique history, its tough challenges, and the great community now growing there. 'Its shortlisting ' and hopeful success ' in the London Construction Awards recognises these facts and highlights Henley's abilities in this worthy field.
'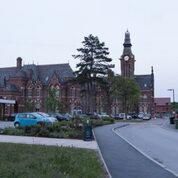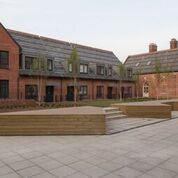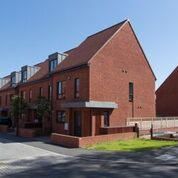 For further information, please contact:
Lisa Carnwell
Marketing Content Manager
Costello Palmer Communications'
07511 037650
lisa.carnwell@costellopalmer.com
---
London Build is the leading building and construction show for London. Gain access to 8 dedicated conferences, 300+ exhibitors across 9 show zones, the construction industry's very own Oktoberfest, entertainment and much more. Promote your brand, open new business opportunities, win contracts and gain access to the latest market intelligence in London and the wider region.