04 Oct 2018
Exclusive interview with Unispace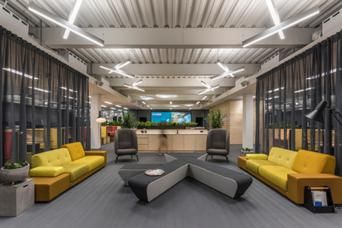 We recently spoke to Unispace to hear more about their entry into the Interior Design of the Year Award and their project for Deliveroo.
Can you tell us a little more about the Deliveroo project?
The goal for Deliveroo's London workhub was something that our team understood from the very beginning.
The resulting workspace is a clear example of how our methodology can seamlessly deliver a project. Our ability to create a workspace within a tight delivery programme of only 14 weeks was a vital element of the process and a unique appeal of our approach.
Deliveroo is a company that has experienced rapid growth, and for which its brand is a core focus. The design of the London office at the River Building not only reinforces critical brand behaviours but allows them to flourish ' it is a beautiful space: clean, simple and transformable.
To deliver the fun, flexible workplace that Deliveroo was looking for, our team made sure that the design of the space and the wellbeing of Deliveroo's employees were in harmony. The design of the River Building space provides a flexible workplace that will enable Deliveroo to adapt and evolve as it grows, but also maintain the culture of a start-up, with the energy that status represents.
The new workplace has been designed for openness and agility, striking a balance between collaborative hubs and spaces that offer privacy for people to focus on their work. The overall scheme provides a rich layering of spaces that support choices in what the different teams do on a daily basis, how they do it and with whom.
Through all of this, the outcome of Deliveroo's new space will provoke the team to connect in a beautiful building with sweeping views of the Thames. It is an agile, dynamic workplace reflecting the story of one of Europe's most exciting technology companies.
'
What are you looking forward to regarding the awards?
We are thrilled to be a part of the London Construction Awards. It is important for us to connect with our peers to create lasting partnerships, given that our service offering interacts with many different organisations. We look forward to sharing in the celebration of our work and recognising how innovative workplace environments are changing the landscape of design and construction. This evening will be an exciting opportunity for us to showcase the synergy between our best in practice workplace consultancy, design offering and build quality, reinforcing our brand message ' ThinkCreateMake.
'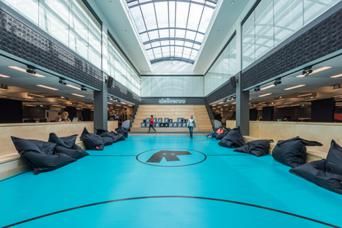 For further information, please contact:
Lisa Carnwell
Marketing Content Manager
Costello Palmer Communications'
07511 037650
lisa.carnwell@costellopalmer.com
---
London Build is the leading building and construction show for London. Gain access to 8 dedicated conferences, 300+ exhibitors across 9 show zones, the construction industry's very own Oktoberfest, entertainment and much more. Promote your brand, open new business opportunities, win contracts and gain access to the latest market intelligence in London and the wider region.