14 Sep 2018
West London renewal - JLL residential research report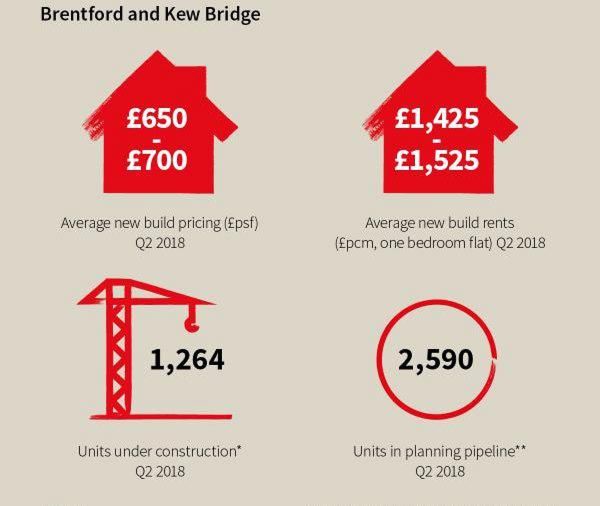 West London renewal ' JLL residential research report
JLL's latest residential report outlines the bright future ahead for West London. The opening of the Elizabeth Line (Crossrail) and likely green light for a third runway at Heathrow, will bring important regeneration to areas of West London including: Acton, Kew, Brentford, Southall, Hayes & Harlington and out towards Hillingdon and Uxbridge.
JLL's report outlines that 13,000 new homes are in the pipeline for this corridor of London, and it is forecasted that West London is set to outperform both Greater London and Central London in terms of sales price and rental growth over the next five years (some 13% vs 11% and 10% respectively in sales and 12% vs 11% and 9% respectively in rental growth forecasts). This will be largely due to the Crossrail effect, with the greater connectivity between West London and Central London broadening the appeal of many West London locations.
Key information from each location outlined in the report is as follows:
Acton
Over the last few years it has been abuzz with activity, with 1,425 units completed since 2014.
There are over 2,135 units in the pipeline, amongst them a 15-year regeneration transformation programme which will see the regeneration of a council estate into a new mixed-use residential hub
The largest scheme in the area is Acton Gardens, by Countryside and L&Q, which will deliver 1,250 private homes across 11 phases. Completed elements have attracted mostly young professionals, transforming the demographics of the area.
In addition to homes for sale, there is a pipeline of build to rent (BTR) units under construction including Oaks Shopping Centre and The Perfume factory, offering accommodation starting from '1,150pcm.
'
Brentford and Kew Bridge
Over the last five years, the area has seen the completion of 1,680 homes with a further 2,590 in the pipeline.
The largest scheme is Barratt London's Great West Quarter, with 428 homes, and part of a large regeneration project which includes new hotel, retail and restaurant facilities. Boasting the most units
The average price per square foot is between '650-700 with rental prices starting at '1,425 for a one bedroom apartment.
'
Ealing, West Ealing and Hanwell
Since 2014, there have been 890 completions, with Dickens Yard the biggest in the area (512 units to date).
There are just 63 homes under construction, the lowest of all areas, but the pipeline is strong with 1,210 units.
Average price per square foot starts at '550 and one bed apartments rent out at '1,200pcm.
'
Hayes & Harlington and Southall
Sitting northeast of Heathrow Airport, Heathrow is the main employer of the area's residents. With the introduction of the Elizabeth Line, the area will be unlocked providing easy access to London, a game changer that will attract a more diverse demographic to the area.
There have been just 775 completions, of which more than two-thirds have been BTR. The Old Vinyl Factory is the key residential development in Hayes & Harlington, rich in history as former HQ of EMI. Once finished the mixed-use scheme will deliver 442 private units, 307 of which will be BTR.
The planning pipeline here is by far the most extensive in West London with 5,584 units.
The Berkeley Group has purchased the former Southall Gasworks site as one of the largest regeneration schemes in London, now known as Southall Waterside. The development is set to deliver 2,433 private units.
New build pricing is typically start at '575 per square foot, with one bedroom apartments renting out at '1,150pcm.'
'
West Drayton and Drayton Gardens
Sitting on the outskirts of London, it will be the first western stop from Heathrow on the Elizabeth Line. In anticipation of this, it has seen significant residential development to date with 1,141 completions over the last 5 years, the largest of which is Drayton Garden Village with 720 private units.
There are two developments under construction totaling 513 units, of which Redrow London's Padcroft is the slightly larger of the two. Both are located within a 5-minute walk of the station, capturing the commuter market.
The planning pipeline is quite sparse with only 245 units granted permission across three developments, all under 100 units.
New build start at '550 per square foot, while rents for a one bedroom flat vary between '1,125 and '1,200 pcm.
'
Uxbridge
There has been a surge of activity in recent years, but much of this remains in the pipeline, including the redevelopment of?St Andrew's Park, a former RAF, which will deliver 1,032 homes once complete. There are a further 628 units in the planning pipeline.
Ken Dowling, Associate Director at JLL, comments: 'The vibrant areas of West London offer an eclectic blend of busy urban streets and an array of green space to its residents. Acton, Ealing and Hayes have seen a surge in investors looking to get ahead of the market prior to Crossrail arriving. Developers are placing emphasis on community living with shared spaces. Whether it be on-site leisure facilities or gardens and roof terraces, this focus on collective and inclusive living seems to strike a chord with tenants and owners alike.
'West London's growing success as an alternative to purchasing in the prime London market benefits the buyer who sees the value and opportunity of long term capital gain. The speed of development and regeneration has also given rise to a robust market of domestic and international investors. The new mix of investors, owner-occupiers and renters is creating a more diverse and vibrant community across West London.'
'
Source :': businessmole
---
London Build is the leading building and construction show for London. Gain access to 8 dedicated conferences, 300+ exhibitors across 9 show zones, the construction industry's very own Oktoberfest, entertainment and much more. Promote your brand, open new business opportunities, win contracts and gain access to the latest market intelligence in London and the wider region.