24 Jul 2019
Where design lovers should explore in London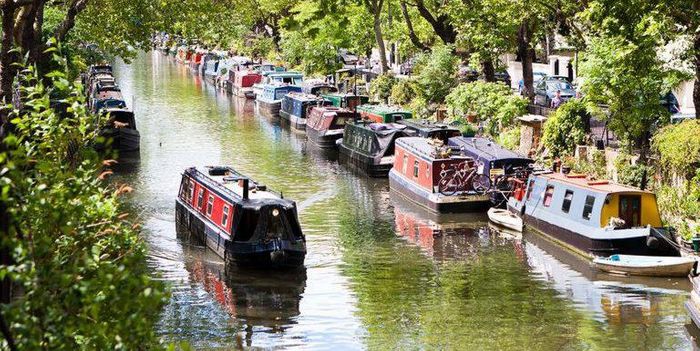 Especially storybook charming in the summer when the weather is drier, the days longer, and gardens in full bloom, London is forever a smart destination for aesthetes. Just back from the city that I'll always argue to be the best in the world, here's a round-up of all the new places and installations to see this summer for those who love culture and design.
Snack Al Fresco At The Serpentine Summer Pavilion
Each summer, London's iconic Serpentine Gallery invites an architect whose work has never before been show in the United Kingdom to create a pavilion in Hyde Park. This summer's creation, by Japanese architect'Junya Ishigami, is an experimental structure where Cumbrian slates were arranged to create a single canopy roof that seemingly emerges from the ground. The pavilion illustrates Ishigami's'free space philosophy, which emphasises the need for man-made structures to be built in harmony with nature. Wondering into the cave-like enclosure, you'll find a pop-up bar offering snacks and cold drinks. Here, an ideal space for any design lover to unwind and as Ishigami intended, to reflect.
Stroll Along House Boats in Little Venice
While this neighbourhood of stately Georgian townhouses is certainly not new, it's surprising how under-the-radar this eccentric part of Zone 2 manages to remain. Garden lovers exploring the area would be wise to peruse through the hopelessly charming'Clifton Nurseries, tucked away on a dreamy residential street near the Warwick Avenue tube station.
Celebrate Black Creativity at a Vibrantly Transformed Somerset House
Showcasing 100 interdisciplinary artists, Somerset House's ongoing 'Get Up Stand Up Now' exhibition examines the black experience in the United Kingdom from the postwar era to today. Curated by'Zak Ov', the son of film director Horace Ov' (whose work has been included in the show), the exhibition explores themes such as race, class, and identity in a multicultural United Kingdom. Drawing on the colours and motifs of his heritage, Nigerian-born and London-based designer'Yinka Ilori'painted the gallery's famed neoclassical walls with bold, colorful hues for the show'and the results of which have a mesmerizing, 3D-like effect. Legendary artists such as Anthea Hamilton, Nick Cave, Rashid Johnson, and Steve McQueen are among those with work on display.'
Have a Night Cap at London's Chicest New Hotel Bar
Officially unveiling in August, The Berkeley Bar and Terrace will be a glamorous setting to indulge in small plates and lovely drinks. (Think lobster beignets and rare whiskies.) Conceived by Irish interior designer'Bryan O'Sullivan, the new bar's key design features include a half-moon marble bar, a central fireplace, and a hideaway private space featuring a stunning mural by New York-based artist'TM Davy'(photographed below). Other smart touches include walnut wood taken from a 300-year-old tree that fell in Lincolnshire during the great storm of 2007 and Brutalist-inspired arches, which nod to an infantry regiment of the British Army whose stables were originally located on the grounds where the hotel was built.'
Take in Art After Dark at Tate Modern's Olafur Eliasson Retrospective
Olafur Eliasson famously created a glowing sun for Tate Modern back in 2003 and arranged glacial'ice blocks'to represent a clock outside the museum in 2018. Now, the Danish-Icelandic artist is back with his much-anticipated "In Real Life" exhibition. Bringing together 30 years of Eliasson's work (as well as new art), "In Real Life" is a climate-centric show highlighting the current state of the planet through immersive installations. From rainbow-generating waterfalls to a hypnotic fog tunnel, the show is both sensory and thought-provoking. Certain to be crammed on weekend afternoons, I'd recommend visiting after dinner on a Friday or Saturday evening, when the museum is open until 10 p.m. and less crowded. Another pro tip: Admission is reduced from '18 to '10 during'Tate Lates'(the next of which falls on July 26th.)
Pamper and Indulge at Lanserhof at the Arts Club, Mayfair
Billed as London's first medical gym, Lanserhof's new outpost on Dover Street is in a league of its own when it comes to boutique spaces dedicated to health and fitness. Spanning six floors of a light-filled Georgian townhouse, the wellness fount is abound with modern design and technology. (Think a VR-simulated machine where you can work your core while virtually flying a plane, a 3D body scanning machine, and blue velvet sofas where guests can sip on Lanserhof's famous tea while awaiting treatments.) One must be a'member'to enjoy access to the Technogym, but non-members can book consultations with onsite nutritionists, osteopaths, physiotherapists, and acupuncturists, as well as sessions such as shockwave therapy and cyrotherapy in the on-site chamber.
Update Your Wardrobe With Something Chic and Danish at Sams'e and Sams'e's First London Flagship
Editorial note: I discovered this Danish brand selling womenswear and menswear while shopping at Selfridge's a few months back, and have been obsessed ever since. The brand's look is sleekly minimal with infusions of bold patterns, and their first-ever London flagship follows suit. Unveiled in early July, the shop is located on a buzzing street in Soho dotted with artisan boutiques and magazine stores.
Stay at the Hotel Where Oscar Wilde Was Once Arrested
Once a favoured haunt of Oscar Wilde, the'Belmond Cadogan Hotel'in Chelsea has been restored to its artistic roots and glamour by way of a $50 million renovation. The property comprises four adjoined Georgian townhouses. (One of which is the well-preserved home of Lillie Langtry, where some of the 19th century's most legendary parties were allegedly held.)
Aside from feeling homey while being impossibly chic, design details cleverly pay tribute to the neighbourhood's history of championing art and literature. Over 700 books were carefully selected by'John Sandoe Books'a must-visit neighbourhood staple'and 430 pieces of art were also commissioned for the historic hotel, with 90% of the works created by British artists.'
A major perk distinguishing the Cadogan from London's many other fabulous, five-star options? Exclusive access to the lush private gardens directly across the street. I toured last week and was taken aback by the intimacy and luxuriousness of having a secluded respite in the middle of the city.
Source: Yahoo! Lifestyle
---
London Build is the leading building & construction show for London and the UK. Gain access to 350+ exhibitors, 500+ speakers and connect with 25,000+ registered visitors. If you are interested in speaking, exhibiting or becoming an official event partner for the 2019 show, simply submit your interest and a member of the team will be in touch.'