20 Aug 2019
Why modular homes could be a real gamechanger for the modern housing market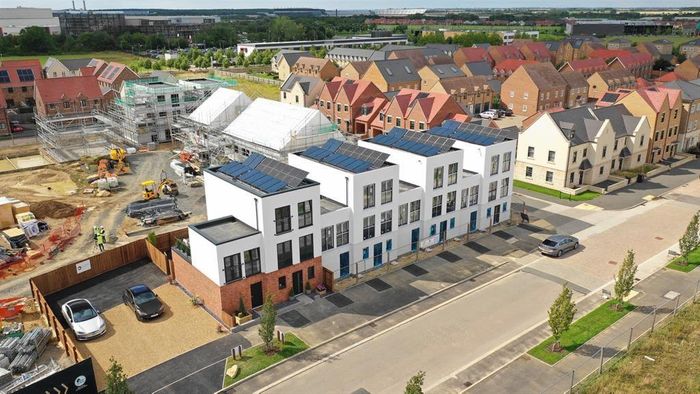 Location, location, location: it has been the repetitive litany for house buyers for decades. But now there's a new mantra on the block: affordable, smart and eco-friendly ' at least for new-build homes.
One solution for the dual challenges of climate change and Britain's chronic housing shortage may be modular homes ' built to exacting standards, largely off-site in factories, and erected speedily onsite.
In other parts of Europe, off-site construction has been common for years, but the UK has been different. Barring, or perhaps because of, a burst of quick-fix prefabricated buildings after World War Two, this country has been an untapped market.
Now, however, developers are waking up to what they consider to be a building technique of the future.
Berkeley Homes recently announced its aim to build 1,000 modular homes a year from a new factory in Kent; insurance giant Legal & General opened its factory in Leeds in 2016 to produce 4,000 homes a year; while Ilke Homes in Yorkshire is aiming to produce 5,000 new homes a year, all constructed off-site. In London, there are developers such as Pocket Living, which has partnered with the Mayor of London and is constructing more than 1,000 modular apartments to sell at 20 per cent below the market rate.
At Priors Hall Park in Corby, Project Etopia is building what may be the first modular commuter village: London is just over an hour away by train. Most of the 47 modular eco-homes are being built offsite.
It's part of a larger project by Urban & Civic, which is building a whole new neighbourhood of 5,500 new homes on a 965-acre site, in conjunction with ten housing developers. Project Etopia, however, is arguably the most interesting. The company started in 2016 and identified Corby as a 'sustainable site' for its first UK residential project.
'We considered that the traditional house-building system was broken,' says Mark Lewis, chief operations officer, of Project Etopia. 'These houses will have 45 per cent fewer CO2 emissions, solar roofing technology and energy that is not only generated but can be stored and shared with neighbours. It is revolutionary.'
Four of the new Project Etopia homes have already been completed. The rest of the 31 houses and 16 apartments will be finished by winter.
The houses are about 25 per cent larger than the national average for traditionally built houses, with prices starting from '295,000 for three-bedroom houses and '340,000 for a three-bedroom, three-storey townhouse with garden.
They've been built in panels at a micro-factory in Devon and another facility at Ellesmere Port.
When they arrive at Corby they are erected in around a week. Bathrooms and kitchens are fitted on-site.
The panels are made of magnesium oxide board, with high pressure PU foam, and slot into a steel frame which forms the lightweight but super-strength core of the homes.
Because of this new technology there are few internal load-bearing walls, meaning buyers can largely customise their design. On the outside buyers can choose between a brick slip finish or render.
Its eco and energy-efficient credentials helped Project Etopia become one of only four firms selected by the Department for Business, Energy, and Industrial Strategy to be part of its Building For 2050 proposals.
The houses' modern design includes large windows, roof terraces and spacious interiors. On the three-storey properties there is room to install a lift.
'We wanted to deliver affordable eco homes, but also houses designed in a way that people want to live in,' Mark adds. 'The fusion of different technologies has meant we can create a smart home which is also hugely energy efficient.'
Joseph Daniels, CEO of Project Etopia, goes further ' condemning traditional building techniques for 'exacerbating' the housing crisis.
'Modular building is now so advanced, it is senseless to cling to bricks and mortar ' which takes longer to build and is more expensive,' he says.
'Commuter villages like this offer would-be home-owners the wage benefits of working in London but without the high property costs.
Etopia Corby is a model we hope other councils will follow.'
'
What is project Etopia?
Set up in 2016, Project Etopia aims to revolutionise house building in Britain ' while targeting pollution and promoting affordable housing around the world. Its key aims are to target the world's biggest problems ' including pollution, natural disasters, global warming and sustainability. Over in Namibia it has built a home for less than US$25,000 (around '20,000), which has beeb designed as a shanty town replacement prototype, while other global projects include designing houses better able to withstand hurricanes (Orlando, US); flooding (Buenos Aires, Argentina) and earthquakes (Japan).
Source: Metro
---
London Build is the leading building & construction show for London and the UK. Gain access to 350+ exhibitors, 500+ speakers and connect with 25,000+ registered visitors. If you are interested in speaking, exhibiting or becoming an official event partner for the 2019 show, simply submit your interest and a member of the team will be in touch.'