29 Apr 2022
Winning Collaborative Design Team to Deliver Multi-Million-Pound Barbican Centre Renewal Project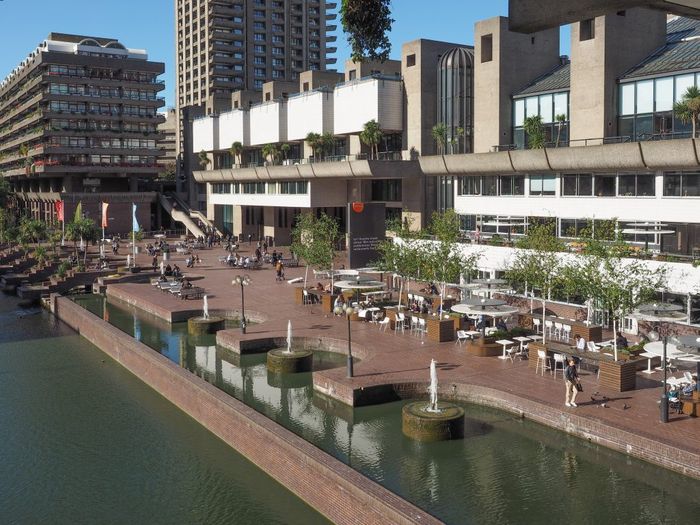 A collaborative design team led by architects Allies and Morrison and Asif Khan Studio, has been appointed to deliver a multi-million-pound Barbican Centre renewal project.
The Barbican Centre renewal project will preserve the building's Grade II listed architecture, create new opportunities for the community of artists, audiences, and partners, and enhance the building's accessibility and environmental performance.
The winning team includes engineering and sustainability consultancy, Buro Happold; heritage experts from Alan Baxter Ltd; theatre, acoustic, and digital consultancy, Charcoalblue; landscape architects, Hood Design Studio, lighting design agency, les 'claireurs, and artistic advisors Isaac Julien and Nadia Fall.
Sustainability is at the core, with a focus on reusing and retrofitting existing spaces to minimise the project's carbon footprint and environmental impact.
'Commitment to preserving the Barbican Centre building'
Chair of the City of London Corporation's Barbican Centre Board, Tom Sleigh, said:
'The team showed total commitment to preserving the Barbican Centre building as a much-loved global icon while ensuring it remains a leading creative centre for generations to come.
'We're delighted to have this'world-class design'team working with us to help deliver our creative vision, while also making major improvements to the Barbican's environmental performance.
'This is a once in a lifetime opportunity to shape the future of this iconic centre for arts and learning, and strengthen its ability to play a leading role in the recovery of the City, and the capital, from the pandemic.'
'Passion for the building's architectural heritage'
CEO of the Barbican Centre, Claire Spencer, said:
'This is a hugely exciting time to join the Barbican Centre and I'm looking forward to working alongside the team led by Allies and Morrison and Asif Khan Studio.
'Their passion for the'building's architectural heritage, paired with their innovative design credentials, make them our perfect partner.
'Equity, diversity, and inclusion will be an essential theme underpinning the design process, ensuring our building reflects the creative energy of all London's communities, with safe, accessible, and welcoming spaces for everyone.'
Simon Fraser, partner at Allies and Morrison said:
'We are looking forward to working with the Barbican Centre, the City of London Corporation, residents, and Londoners of all communities, to uncover the full potential of a place that so many people love, and to invite and enable new work and audiences for the next forty years.
'We are interested in the notion of 'revealing', of finding places of untapped potential within and around the walls of the Barbican. Not only will this approach offer substantial savings in embodied carbon, and respects'the Centre's significant heritage value, but it opens a myriad of opportunities for creative, inclusive reinvention.
'It has been a pleasure assembling and collaborating with a multidisciplinary team that has the lived experience to take on this exciting task. For all of us, this will be the project of a lifetime.'
'Vision for the Barbican's new life'
Asif Khan, founder and owner of Asif Khan Studio, added:
'My dad first brought me to the Barbican just after it opened to the public in 1982. From those early visits as a two-year-old we would spend countless Sundays enjoying the free programme and public spaces.
'For him, the lake was a reminder of the Shalimar Gardens in Lahore. For me it has always felt like home and has been a constant presence in my life.
'Who would imagine that exactly forty years later there would be an opportunity to contribute towards its future? Amazing things happen like that in this city.
'This renewal project will care for the things we all love about the place, solving parts which could have been better but most importantly helping to open up the Barbican to London and Londoners in ways that couldn't be imagined before.
'The incredible team we have assembled to bring about this change are embarking on this journey with great excitement and dedication to the vision for the Barbican's new life.'
All shortlisted bids were assessed by an evaluation panel which included external specialists in equity, diversity and inclusion, and heritage and sustainability, alongside representatives from the City Corporation and members of its Barbican Centre Board, and senior Barbican Centre staff.
The external panellists were:
Y?m' Al'd'run, architect and development manager, Meridian Water, Co-Founder PARADIGM Network
Lisa Burger CBE, Former Joint Chief Executive, National Theatre
Margot Heller OBE, Director, South London Gallery
Dr Judit Kimpian, architect and environmental design expert
Dr Neal Shasore, Chief Executive and Head of School, London School of Architecture and Trustee, The Twentieth Century Society
Multiple design options will be created and will be deliverable within a budget of '50m-'150m ' subject to approval by elected Members of the City Corporation.
Find'further information about the Barbican Centre renewal project.
Source: PBC Today'