04 Jun 2019
World's first 360-degree rooftop infinity pool planned for London skyline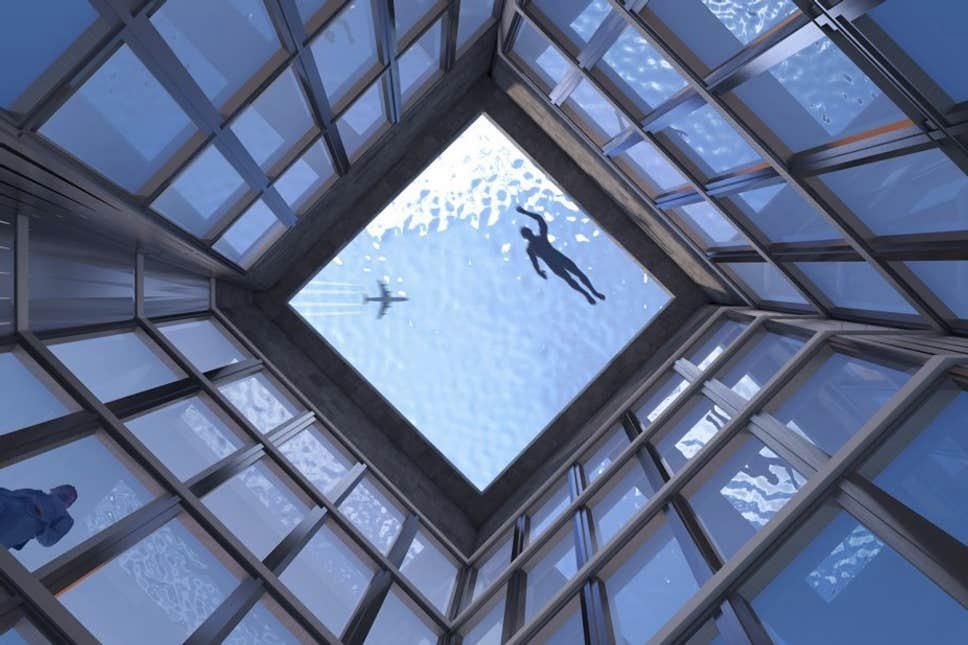 Plans are afoot for a'rooftop infinity pool'boasting 360-degree views of the London skyline, the first of its kind in the world.
The designs, which depict a clear-sided pool open to the elements atop a 220m skyscraper, have been unveiled by Compass Pools.'
The company has designed the building underneath too, which will feature a'luxury hotel'on the upper floors offering pool access for guests.
Swimmers will reach the 600,000-litre pool, dubbed Infinity London, via a rotating spiral staircase.
'We faced some quite major technical challenges to this building, the biggest one being how to actually get into the pool,' Compass Pool's swimming pool designer and technical director Alex Kemsley'told e-architect.co.uk.
'The solution is based on the door of a submarine, coupled with a rotating spiral staircase which rises from the pool floor when someone wants to get in or out ' the absolute cutting edge of swimming pool and building design and a little bit James Bond to boot!'
In addition to the sides, the bottom of the pool will also be transparent, allowing hotel guests to look up and see people swimming above them.
Cast acrylic rather than glass will be used ' the former material transmits light at a similar wavelength to water, meaning the pool will appear completely clear.
Other state of the art features include an inbuilt wind-speed monitor which feeds directly into a computer-controlled management system, ensuring water doesn't get blown out of the pool in blustery weather.
The water will be heated sustainably, using waste energy from the hotel's air conditioning system.
'Architects often come to us to design roof top infinity pools, but rarely do we get a say in the building design because the pool is usually an afterthought,' said Kemsley.
'But on this project, we actually started with the pool design and essentially said, 'how do we put a building underneath this?'
'When we designed the pool, we wanted an uninterrupted view, both above and below the water.'
He added: 'Pop your goggles on and with a 360-degree view of London from 220m up, it really will be something else ' but it's definitely not one for the acrophobic!'
Infinity London's construction could start by 2020 if all investors and developers are confirmed.
'
SOURCE:'Independent
IMAGES COURTESY OF:'www.compass-pools.co.uk'
---
London Build is the leading building & construction show for London and the UK. Gain access to 350+ exhibitors, 500+ speakers and connect with 25,000+ registered visitors.'If you are interested in speaking, exhibiting or becoming an official event partner for the 2019 show, simply submit your interest and a member of the team will be in touch.'