29 Aug 2019
World's first 'half and half' hotel suite opens in London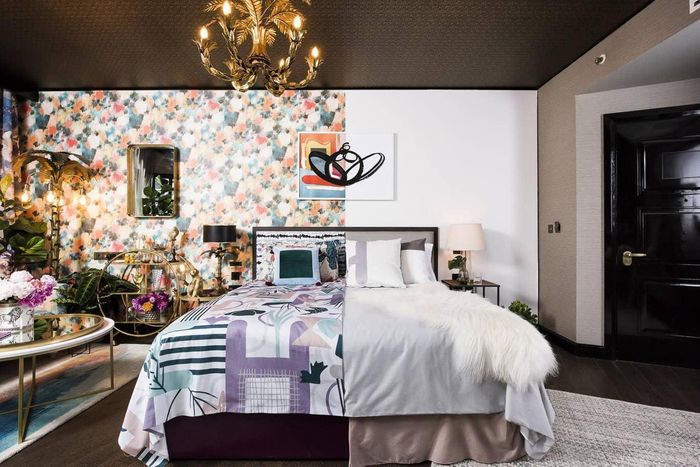 The world's first 'half and half' hotel suite has been revealed at The Curtain Hotel in London's Shoreditch.
Aptly named the 'So Extra So Chic' suite, the room is split straight down the middle, with one half pandering to your inner maximalist while the other half satisfies your minimalist tendencies.
The brainchild of'Hotels.com, the hotel booking site has paired with Katy Perry's stylist Johnny Wujek to create the 'extra' side of the room and fashion influencer Kaitlyn Ham to create the 'chic' side of the suite.
With golden ornaments, monkey lamps, a luminescent mini bar and clashing prints, the maximalist side of the suite is perfectly complemented by the pared back, clean lines and minimalist monochromes of the chic side, which also features line drawing art and d'cor with muted tones.
Wujek said in a statement: 'I wanted my side of the room to feel exciting and 'extra' but also comfy and cosy. It's a touch of overgrown Great Expectations with a dash of California casual. Style is all about self-expression and, clearly, I have a lot to express. Baby, you better stand out in this world.'
Ham added: 'I took inspiration from modern mid-century design to create a space that feels open and calming. All the pieces were chosen for their style and functionality with a focus on quality. The space should feel modern and light yet have an inviting warmth that makes it feel like home.'
The suite was created after a poll from Hotels.com found that 19 per cent of Brits would choose opulent d'cor for their homes if money was no object while eight per cent would stick to the shabby-chic vibe. The survey also found that a free-standing bath is what Brits most lust after in their hotel rooms, followed by a walk-in wardrobe and 'incredible' lighting.
Source: Evening Standard
---
London Build is the leading building & construction show for London and the UK. Gain access to 350+ exhibitors, 500+ speakers and connect with 25,000+ registered visitors. If you are interested in speaking, exhibiting or becoming an official event partner for the 2019 show, simply submit your interest and a member of the team will be in touch.'