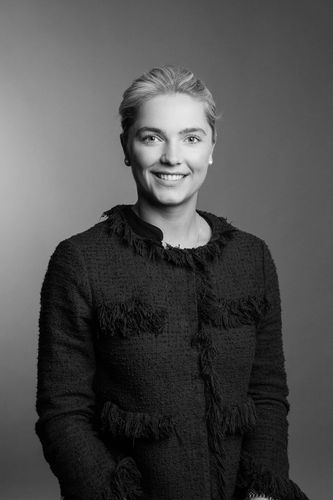 Elinor Strapp
Project Manager and Head of Multiplex's Global Women's Network
,
Multiplex
From the outset, Elinor has played a hugely proactive role in the opportunity area around talent attraction and retention of women within the industry.
Prior a shift within Multiplex to her current role as Project Manager, delivering a Commercial redevelopment project, Elinor was responsible for managing the Pre-Construction Project Management Team, delivering the business strategy for new work across London and Scotland, whilst also looking at prospective markets and clients.
With a BSc (Hons) in Architectural Engineering and Design Management from Loughborough University, Elinor is an experienced Project Manager with delivery experience at a major professional services firm within their Real Estate Developer Team on high-profile, complex construction projects covering all aspects of the project lifecycle, commercial, residential, and Mixed-Use sectors including Phases 1 and 2 of Battersea Power Station and DAMAC Tower in Nine Elms. She has a keen technical understanding, which allows her to approach complex issues with a logical and precise mind-set.
Initiatives include:
Industry:
2019 – present: Co-Chair, CTBUH UK and Vice-Chair Global Future Leaders; leading a team of 12 industry professionals to run key topical panel discussions, live and completed building tours, networking events etc.
Including launching a global mentoring scheme pilot in 2023 with full roll out planned in 2024 (65 partnerships Globally and 17 regions involved)
2018 – 21: STEM Ambassador and volunteering with the National Literacy Trust to host engineering related subjects and activities.
Company - Multiplex
2021 – present: • Co-Chair of the Women's Network; with an aim to support the talent attraction and retention of not only Multiplex but the wider industry.
Created and lead our Podcast 'The Good, The Bad and the Built Environment' launched in 2022 to share insights, stories and lessons learns with female leaders in the industry. Strong growth plan in 2023 to target Global coverage with our Canadian and Australian businesses.
Setting and delivering our strategy for 2022 onwards including:
Female empowerment series inc Partnership with Hertility Health for an education series.
Reverse Mentoring Pilot
Internal and External Networking events; including securing IWD Guest Speaker Maggie Alphonsi in 2023
Roadshows for our Scotland and London sites
Partnered with industry initiatives i.e. Mentoring Circle, for our female employees
Turner & Townsend 2015 – 2020
Mentoring on numerous initiatives to support and mentor new graduate intakes over the globe and share knowledge and experiences to date
YPF (Your Professional Future) 2017 – 2020. Organising the first Turner & Townsend Women in Construction event at Loughborough University to raise awareness for the opportunities within the company and wider industry, Graduate Insight Days for c.100 incoming graduates, speaking on Women in Construction Event panels and taking part in the early careers recruitment video.
GRAPPLE 2017-2019: Invited by a new scheme at TFL to become part of their new graduate and apprentice learning environment. A group across the sectors to discuss pressing issues and work towards how we can implement changes to improve the fragmentation and promote the industry for young persons.
At University (Loughborough) 2013-2017
Women's Engineering Society Treasurer at Loughborough University 2015 -2016: Securing sponsorship with engineering firms for events and placements for the university students. Initiatives such as careers fairs and networking events.
Elected representative for Second Year Architectural Engineering and Design Management, representing the student's voice on the course and organised networking events.