28 Aug 2023
Calls for gender balance in construction industry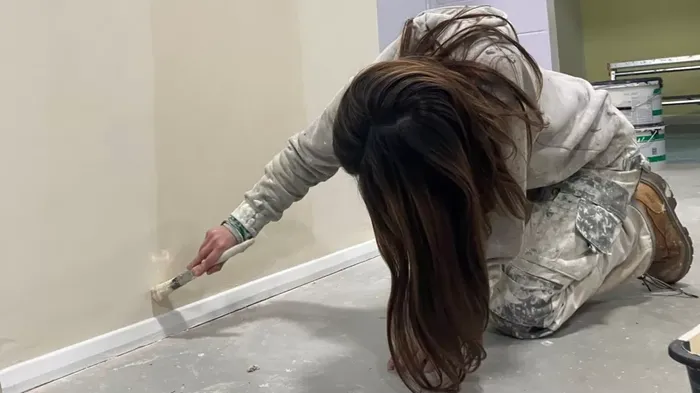 Women working in construction have told the BBC the industry would benefit from a better gender balance.
The Home Builders Federation has joined with not-for-profit organisation Women into Construction to encourage more females into the industry. Only 15% of the construction workforce is female, according to the Office for National Statistics (ONS), external.
However, colleges in Northamptonshire have been seeing more of them starting their training courses.
What is it like for women in construction and those hoping to join their ranks?
'I'm the only girl on site'
Emma Evans has been working as a trainee assistant site manager on a construction site in Leighton Buzzard.
"When I first wanted to get into construction, I was 21," she said.
"I wrote to a well-known national housebuilder asking if they had any jobs, if I could do labouring, and they said they don't take women on."
The 46-year-old from Northampton has now been in construction for about two years.
"My first day on site I stood on the gantry outside the office and I could hear all the noise of the plant, and I had dust in my hair and mud all up me, and I thought, wow, finally I've made it."
Ms Evans added: "I'm the only girl on site and it's fine, it feels natural really.
"I don't see myself as different."
However, she said the industry would benefit from more women.
"Women buy houses, they live in houses, so why not have women building those? We know what women want."
'Women bring different ideas'
Rachel Carter, a general labourer on another site in Wellingborough, said she was "never encouraged into building work, engineering type roles" when she was growing up.
"You didn't see a lot of adverts, or you didn't see interviews with women in these kind of roles, so it wasn't out there that I could do this sort of job," she said.
"It's only as I've got older that I've had to encourage myself, find my own inspiration.
"I've found a lot of the men I have worked with have been really supportive, really respectful.
"They've helped me, they've shown me how to do things.
"Everyone is here to work together and get the job done."
She said it would be "a really valuable asset to have a more balanced team" on construction sites.
"Both men and women bring different ideas to the table, they have different backgrounds [and] different experiences."
'Some men are a bit hostile'
Francesca Denny is an assistant site manager. She said it was "very rare you come across another woman in construction", meaning she did not have other females to "share the difficulties of the role" with.
"Some men are a little bit hostile to start off with because they aren't used to seeing women in construction.
"But I'd recommend women coming into the industry. It's hard work, but it's very rewarding.
"Every day is completely different - I don't know what I'm coming in to.
"I like seeing what I've done at the end of the day. I like it when I've moved in a customer and I can see what I've personally done has gone into somebody living in their dream home."
'Great to see women doing construction'
Among the colleges in Northamptonshire seeing more females on construction courses is Moulton College,, external with numbers rising from 11 in 2018 to 19 this year.
Northampton College, external has also seen an increase, from six to 24 in the same period.
Cassia, a painting and decorating student at Northampton College, said it was a "male dominated industry", but it was "great to see women also doing construction, because it gets rid of that stereotype that only men can do this and only women can do that".
She said: "If you see more women doing construction it'll inspire more women into that industry.
"Sometimes it does kind of feel a bit lonely because there isn't really people that can relate to you, gender-wise."
She said she had been told women can "make better painters and decorators - because women generally have an eye for detail and see imperfections".
---
Source: BBC
London Build is the UK's leading construction & design show. Gain access to 500+ incredible speakers across 8 stages, 350+ exhibitors, Meet the Buyers, live product demos, networking parties, entertainment, live music, the UK's biggest Festival of Construction and endless networking opportunities with leading architects, developers, housebuilders, contractors, government and more.